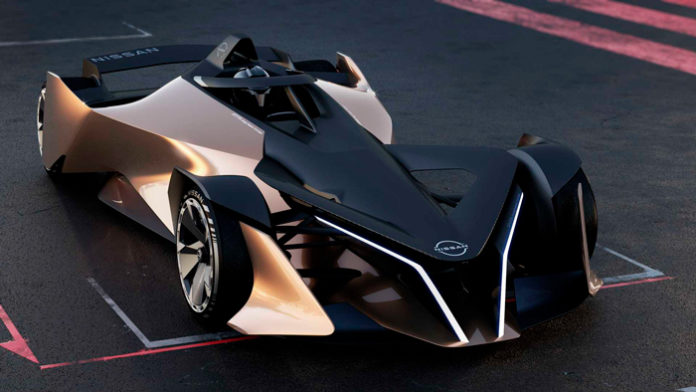 At Nissan Futures, Nissan unveiled the concept of an electric car based on the future Ariya electric crossover platform and using a Formula E design. Developers demonstrated the versatility of a serial crossover platform and showed the prospects for the development of smart electric cars with a high level of autonomy.
The single-car was named the Nissan Ariya Single Seater Concept. The design of the concept car has similarities with the electric crossover Ariya. First of all, this is a combination of copper and black colors in the design of the body of both cars. In the front of the sports car, there is a V-shaped imitation of the radiator grille, which is found in the design of the Nissan Ariya SUV. The similarity is provided by the presence of characteristic LED strips in the front of the cars.
The body of the Nissan Ariya Single Seater Concept is made of carbon fiber and has a high aerodynamic performance. The flowing body lines also hint at the body shape of the Nissan Ariya. The developers note that the concept presented demonstrates "how exciting" electric vehicles can be, which can be designed even on a serial, universal platform.
The technical parameters of the Nissan Ariya Single Seater Concept were not disclosed. It can be assumed that the concept will use the AWD e-4ORCE scheme with two engines, as in the top modification of the Nissan Ariya. The total power of this model is 394 hp, with a maximum speed of 200 km/h.
Introduced in summer 2020, Nissan Ariya is now available for pre-orders in the US market. There will be five modifications of the car with front or all-wheel drive and power in the range of 160 to 290 kW. The capacity of the battery packs of the Japanese electric crossover will be either 65 or 90 kWh. The autonomous range on a single charge, measured according to the WLTP cycle, does not exceed 500 km.