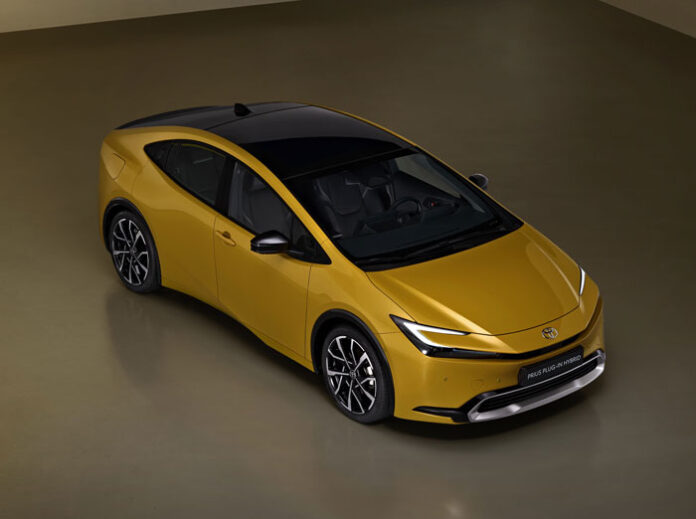 The new Toyota Prius Prime 2023 hybrid car has improved its appearance, received a larger traction Li-Ion battery, as well as a solar roof that will allow you to charge the battery in the parking lot or serve as a source of energy for the air conditioner while driving.
The new traction battery will increase the range of autonomous driving up to 60 km (instead of the earlier 45), and it will be able to charge it using solar panels built into the car's roof.
The new model has a low center of gravity and a large boot capacity. It is slightly lower, wider and longer than the previous Prius generation.
Toyota says the car has a fifth-generation hybrid powertrain and a 2.0-liter engine for a total output of 220 hp. Acceleration to 100 km/h takes 6.7 seconds.
Like the base Prius, the Prius Prime plug-in hybrid supports Apple CarPlay and Android Auto. Toyota's own Intelligent Assistant allows you to get directions, adjust the audio system, change the cabin temperature and do other things using voice commands.
To help the user understand how to get to where they are going, Cloud Navigation uses the most up-to-date traffic and route information.
Other highlights include JBL Premium Audio with eight speakers and USB Type-C ports. In some trim levels, the Remote Connect service provides a digital key feature that allows you to lock and unlock doors, start the engine, etc., using your smartphone.
Other versions of the Prius Prime may be equipped with Blind Spot Assist with Reverse Obstacle Alert. Front and rear parking assistance with automatic braking is available on the SE trim and is standard on the XSE and XSE Premium trim levels.
Those who opt for the XSE Premium will benefit from the Panoramic View Monitor, which provides a 360-degree view around the car, as well as a hands-free system that can assist with parallel parking and reversing in a parking space.
Pricing and a launch date for the base Prius will be revealed by the end of this year. As for the Prius Prime plug-in hybrid, the company promised to provide information in the first half of 2023.