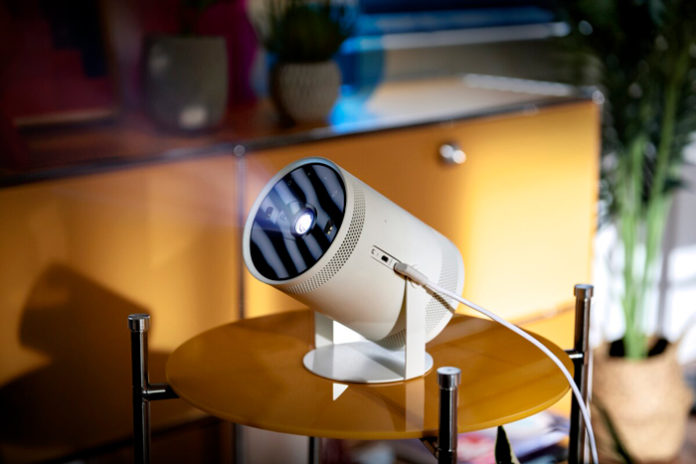 Samsung Electronics announced the release of its new Samsung Freestyle portable entertainment device, bringing the latest technology to enjoy video and audio content anywhere. The function of creating an intelligent light color and music show is also implemented.
Working in the video projector mode, Freestyle is capable of automatic tilt correction, autofocus support and automatic keystone correction. As a result, regardless of the angles of the surface where the Freestyle is placed, the user always receives a perfect image with a diagonal of up to 100 inches.
The device has a small weight – only 830 grams, and the use of a universal stand allows you to rotate the projector 180 degrees and demonstrate video on various surfaces: walls, ceiling, or floor, without an additional screen.
The Freestyle is also equipped with a dual passive radiator for clear, deep bass without distortion, and its 360-degree sound emission allows customers to enjoy cinema-quality sound anywhere in the room.
Using USB ports, you can connect external power sources, which will allow you to use Freestyle anywhere, including outdoors while hiking. Freestyle also supports smart speaker features that analyze music to pair visual effects that can be projected onto the wall, floor, and anywhere else.
The support for Smart TV features on Samsung TVs has been implemented, which will provide access to streaming services and broadcast from mobile devices running on Android and iOS. Voice control is available.
Starting January 4, 2022, the Freestyle device can be ordered online in the US market for $900. For residents of other countries, Freestyle will be available from February this year.