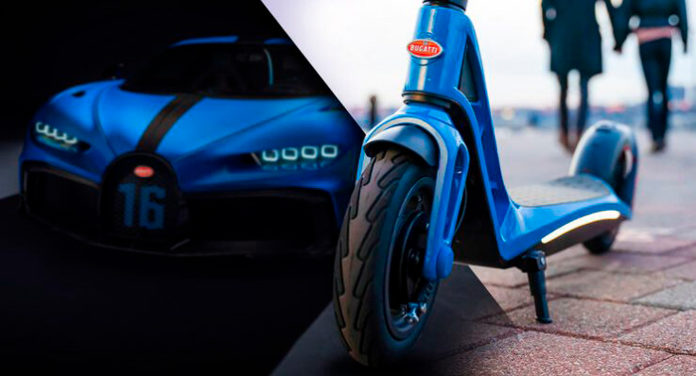 Renowned French luxury car manufacturer Bugatti Automobiles is entering the electric vehicle market with the introduction of its first all-electric product, an electric scooter, Bugatti E-Roller. The developers announced the high autonomy of the scooter and adjustable speed.
At present, the company has not announced a price or a start date for the sale of the electric scooter. It is known that the American company Bytech Intermational was involved in the development of a new product for Bugatti. The Bugatti scooter received an original design with some elements referring to the branded Bugatti La Voiture Noire hypercar.
The scooter is equipped with a 700 W electric motor, which will allow it to reach a maximum speed of up to 30 km/h. The developers said that the control system will allow the scooter to be set up for urban driving with a speed limit of up to 15 or 19 km/h, depending on the legislative requirements of individual countries for the speed of small vehicles.
The body of the Bugatti scooter is made of durable and lightweight magnesium alloy, and the total weight of the device is 15.8 kg. The battery provides an autonomous range of up to 35 km, and it will take up to 4 hours to fully recharge the battery. The scooter control system receives an on-board computer. The scooter is equipped with a unique lighting design with an LED headlight, position lights and decorative lighting. A mini-projector is installed at the back of the scooter to display the Bugatti logo.