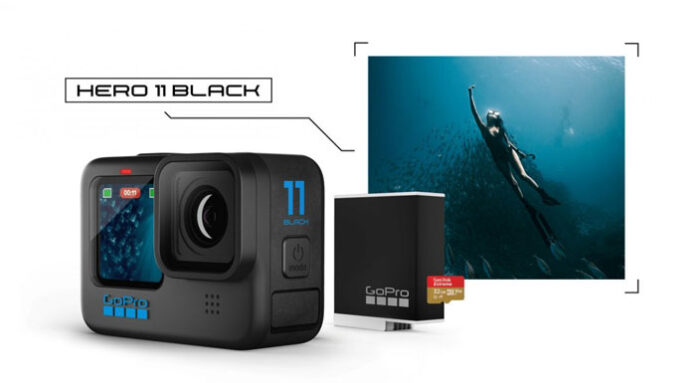 GoPro has introduced a new generation of branded action cameras GoPro Hero 11 Series, consisting of three models – Hero 11 Black, Hero 11 Black Creator Edition and Hero 11 Black Mini. All cameras received a 1/1.9-inch sensor with a resolution of 27 megapixels and an improved HyperSmooth 5.0 image stabilization system. The latter allows you to align the picture depending on the movement speed and user activity.
GoPro Hero 11 Black
Externally, the base model does not differ from its predecessor – the same compact body and two screens. The body is waterproof. Dimensions: 71.8×50.8×33.6 mm.
GoPro Hero 11 Black Mini
The mini version is more compact, which was achieved by eliminating the displays in front and behind – there is only a small display area for the resolution used at the top. At the same time, the filling of the cameras is identical.
GoPro Hero 11 Black Creator Edition is aimed at vloggers and content creators and comes with a Volta Hand Grip, Light Mod and Media Mod with a microphone.
All cameras support video recording in resolutions: 5.3K 60fps, 4K 120fps and 2.7K 240fps. They also support slow motion up to 8× at 2.7K resolution and 240fps. The manufacturer also notes the new HyperView lens and the enlarged Enduro battery, which has become more resistant to cold and provides up to 38% longer recording time at normal temperatures compared to the previous generation.
The Hero 11 Black, Hero 11 Black Mini, and Hero 11 Black Creator Edition are priced at $500, $400, and $700, respectively.