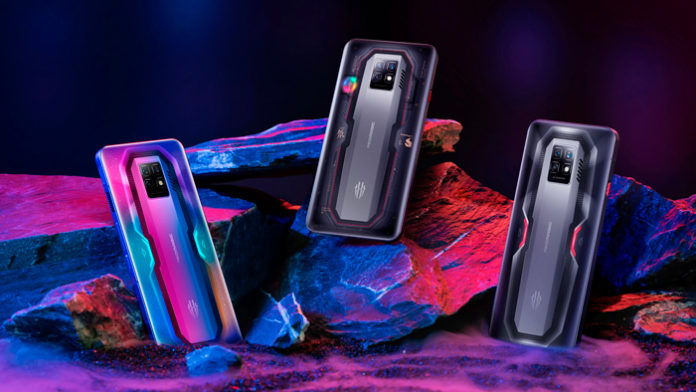 A week ago, the official presentation of the Nubia Red Magic 7 and Nubia Red Magic 7 Pro gaming smartphones took place in China. They became the first gaming devices with a front camera built under the screen. The Red Magic 7 model for China received 120W fast charging. It took the smartphone only 17 minutes to charge the battery. Now, Nubia has announced the release of the Red Magic 7 smartphone to the international market.
The package of the global version of the Red Magic 7 smartphone is somewhat different from the smartphone intended for the Chinese market. Like in the Chinese modification, the international model of Red Magic 7 is based on the Snapdragon 8 Gen1 processor. However, the number of combinations of RAM and permanent memory for the international version has been increased. Three modifications of the smartphone will be sold on the global market: with 12 GB of RAM and 128 GB of permanent memory, with 16 GB of RAM and 256 GB of permanent memory, and with 18 GB of RAM and 256 GB of permanent memory (this combination is not available in the Chinese version of Red Magic 7).
The emergence of the NFC module was another innovation for the international model Red Magic 7. The third change affected the power of the charger, which was reduced from 120W to 65W. The battery capacity remains the same at 4500 mAh. Apart from that, the smartphone supports a screen refresh rate of 165 Hz. An ICE8.0 active cooling system with a fan and high-tech composite materials is installed to ensure efficient heat dissipation.
On the global market, the Red Magic 7 smartphone will appear in three variants: Obsidian, Pulsar and Supernova. In Europe, the price of the Red Magic 7 (Obsidian) 12/128 GB will be 629 euros, the Red Magic 7 (Pulsar) 16/256 GB is priced at 729 euros. The top gaming flagship Red Magic 7 (Supernova) with 18 GB of RAM and 256 GB of permanent memory will cost 799 euros.