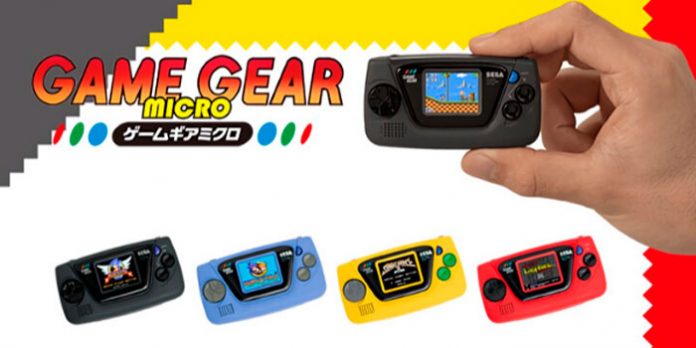 During a significant year for the gaming industry, when Sony and Microsoft game consoles are about to enter the market, SEGA celebrates the 60th anniversary since the founding of the company and the 30th anniversary of the launch of the 8-bit Game console Gear. The console then tried but failed to compete with the Nintendo Game Boy. The SEGA company decided to remind of themselves and release a modern, compact version of the Game Gear Micro console to commemorate the anniversary.
The main target audience for the miniature souvenir consoles will be collectors and fans of the products of the Japanese gaming giant. The updated version of Game Gear Micro received significantly smaller dimensions than the original version: 8*4.3*2 cm. According to SEGA developers, the 2020 console is 92% smaller in volume than the thirty-year-old model. The miniature screen received a diagonal of only 1.15 inches and a resolution of 240×180. For a comfortable game, the user can have the special Big Window overhead device, which is an ordinary magnifying glass.
The console is devoid of a device for installing a cartridge and comes with four pre-installed games. In total, four Game Gear Micro models are launched on the market, each of which has its own set of 4 games. You can distinguish consoles by color.
The model in black will allow you to run such games: Out Run, Puyo Puyo Tsu, Royal Stone, and Sonic The Hedgehog.
Owners of the red-version console are introduced to the following set: Columns, The G.G. Shinobi, Megami Tensei Gaiden: Last Bible and Megami Tensei: Last Bible Special.
Owners of the blue Game Gear Micro will be able to play Baku Baku Animal: SSS, Gunstar Heroes, Sonic & Tails and Sylvan Tale.
The yellow console will please its fans with the following games: Nazo Puyo: Arle no Roux, Shining Force, Shining Force II and Shining Force: Final Conflict.
The control system in a microscopic attachment is similar to the original version. There is also a 3.5 mm headphone jack. Game Gear Micro works autonomously from two AA cells and can be recharged via a USB connector.
The price of one console will be about $45. The sales of souvenir consoles will begin in Japan on October 6, 2020.