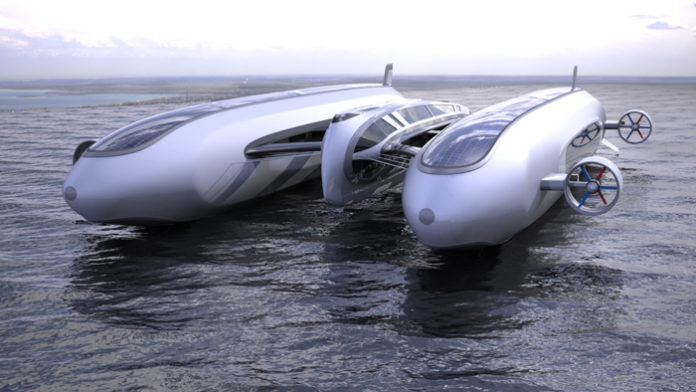 The "golden age" of giant airships was interrupted by the tragic events associated with a fire on the German passenger airship liner "Hindenburg" on May 6, 1937, which led to the death of 36 people. However, new technologies and modern materials can revive the popularity of this environmentally friendly, economical and comfortable kind of transport in our time.
Design company Lazzarini Design Studio from Italy has designed a hybrid kind of transport called Air Yacht, which combines the advantages and capabilities of an airship and an ocean yacht.
One of the main advantages of the Air Yacht design is the division of the gas chamber into two separate independent compartments. This design of the airship resembles a common giant catamaran, because the two hulls filled with helium sections are 150 meters long. The volume of helium pumped into Air Yacht is 400,000 cubic meters. The split double hull design will provide greater survivability for the flying yacht.
The performance characteristics of Air Yacht are very impressive: it can fly can at a speed of 110 km/h. The speed on the water will be about 9 km/h.
It performs vertical takeoff or landing, as well as moving in a horizontal plane. Maneuvering in the air and on the water is possible due to eight rotary propellers.
Between the two helium chambers, there is a central gondola 80 meters long and 10 meters wide. The control panel and the cabin of the yacht owner are located here. The cabin has a separate access to the deck with a 360-degree view, as well as to the helipad. For guests, there are 10 cabins equipped with all amenities.
Guest cabins are housed in helium chambers on the outside of the Air Yacht. The total width of the flying yacht will be 80 meters. All sections and chambers of the yacht are made of dry carbon fiber and are interconnected by convenient transitions.
Air Yacht batteries will allow you to move at a cruising speed of up to 48 hours. Solar panels placed on the upper plane of the helium chambers will be able to increase the travel autonomy almost to infinity. The warehouses of the air yacht are designed to store large food supplies, and a large wine warehouse will not allow passengers to get bored during long flights.