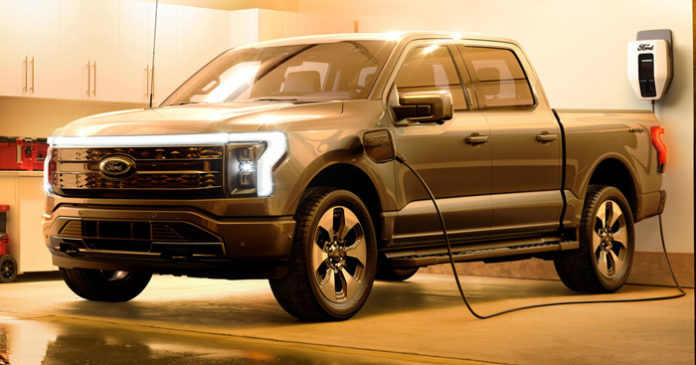 According to the official information from the manufacturer, the main competitor of the Cybertruck pickup from Tesla and Hummer from General Motors – the electric version of the legendary Ford F-150 – will receive another important function and will be able to act as a source of autonomous power supply for an average American household for quite a long time.
Modern electric vehicles are equipped with capacious batteries that can extend the autonomy of a car. The high capacity of the batteries, meanwhile, can also be used to reverse the supply of electricity to the home network in case of power outage or a force majeure situation.
The flagship electric car F-150 Lightning Extended Range is equipped with an electric motor with a capacity of 571 hp. and an autonomous run up to 500 km. The 131kWh battery pack (base car 98kWh) will be able to not only consume electricity, but also share energy through the Intelligent Backup Power system, which turns the pickup truck into a 9.6kWh whole-house backup power source.
In the US, the average household consumed up to 30 kWh per day in 2020. According to Ford engineers, the Ford Intelligent Backup Power system will also be able to supply energy for up to 10 days to a single household, given that the economy mode is activated or when the car is connected to a solar panel system.
To operate the mutual power system of the house and car, you need to purchase a Ford Charge Station Pro, co-developed by Siemens, and a home integration control system.
As a result, the owner of the new F-150 Lightning pickup will be able to recharge the battery during the hours when electricity is provided at lower rates, and supply energy from the car battery to the house during peak hours.