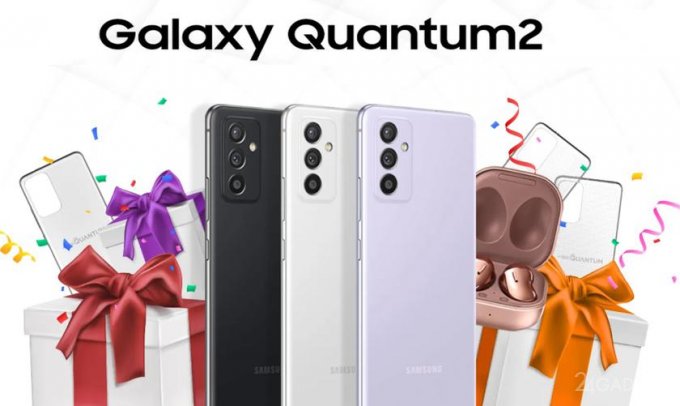 Protecting confidential user data is one of the most pressing challenges for smartphone manufacturers. In May 2020, the unique Galaxy A Quantum smartphone with quantum cryptography went on sale in Korea. The device was released as a result of a partnership program between Samsung and SK Telecom.
The sale of the second modified model of the Galaxy Quantum 2 smartphone, equipped with a quantum random number generator (QRNG) was announced to start in South Korea on April 23. The development of the QRNG chip, considered the smallest in the world with the overall dimensions of 2.5×2.5 mm, was carried out by the engineers of the Swiss company ID Quantique. Its function is based on generating random codes from the light noise of photons, emanating from a built-in LED and recorded by a CMOS sensor.
Quantum encryption significantly improves the reliability of storing user data such as passwords, bank codes, and other information. In the future, it is planned to introduce the technology with a QRNG chip in the IoT devices.
The second generation of the quantum encrypted smartphone, Galaxy Quantum 2, will be released only in the domestic market of Korea. The device will receive a 6.7-inch screen with a Super AMOLED matrix that supports a refresh rate of 120 Hz.
The hardware will be powered by an 8-core Snapdragon 855+ processor and an Adreno 640 graphics chip clocked at 672 MHz. The amount of RAM is 6 GB, and the permanent memory is 128 GB. The front selfie camera has a 10MP sensor, while the main camera has three sensors with a resolution of 64MP, 12MP, and 5MP. Communication in 5G networks is supported.
Autonomous operation is provided by a 4500 mAh battery with the support for 25 W fast charging. The standard Galaxy Quantum 2 comes with a 15W charger. The smartphone is certified as IP67 waterproof.
Starting from April 23, the Galaxy Quantum 2 will retail for 699,600 won (about $623) in Korea. Outside the country, the smartphone may appear under the name Galaxy A82 and will be deprived of the unique QRNG chip that provides quantum cryptography.