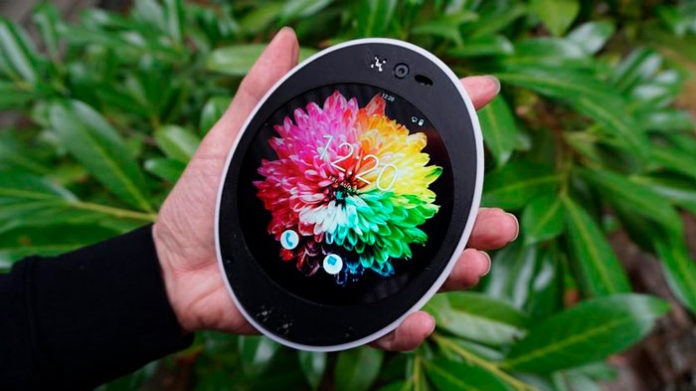 The dTOOR company from Seattle (USA) has been working on the creation of original smartphones for people thinking outside the box for several years. The company acquired its first experience in producing "round" smartphones in 2015, having successfully completed a project on Kickstarter for the production of "non-rectangular phones called Cyrcle Phone for people with non-rectangular thinking". The company is now inaugurating the second phase of a project to release a modified Cyrcle Phone 2.0 with a circular display. The new project also started on the Kickstarter crowdfunding platform. In the first few days, it has already raised the funds necessary to start the production.
A new smartphone, called Cyrcle Phone 4G LTE, is running on Android 10. According to the developers, the main advantage of the unusual design is the ease of using the device, which fits optimally in the user's palm. The smartphone has two headphone jacks, which allow you to "distribute" audio for two users at once.
Enthusiasts have not forgotten about nature protection. The Cyrcle Phone 4G LTE is made from biodegradable material (PLA) derived from corn. Smartphone buttons are made from recycled thermoplastic polyurethane. The weight of the new smartphone is 147 grams, and it supports two SIM cards. The liquid crystal IPS LCD display has a diameter of 3.45 inches, and the dimensions of the oval body are 130x103x22 mm. The screen resolution is 800×800.
The Cyrcle Phone 4G LTE hardware base is powered by an unnamed Snapdragon processor from Qualcomm. RAM standard LPDDR3 is 3 GB, and eMMC permanent memory is 32 GB, expandable with microSD. The selfie camera and the main camera have the same 13MP sensors. Wireless communication is realized by LTE, Bluetooth and WiFi modules. There is also an NFC and GPS module.
Autonomous operation is provided by a removable 2000 mAh battery. The Kickstarter project runs until October 9th. The pre-ordered Cyrcle Phone 4G LTE is priced at $999.