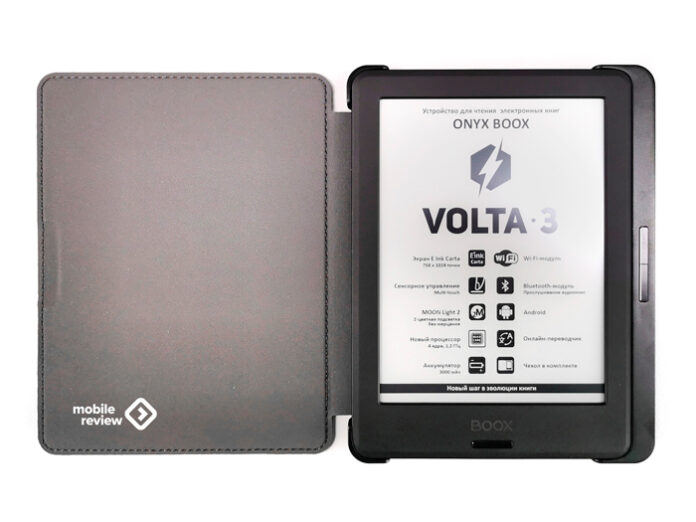 Onyx Boox Volta 3 is a 6-inch reader with an E-Ink touch screen, backlight, and a convenient cover with buttons. An ideal find for those who like to read a lot, but do not want to spend money on paper books.
Let's see what the device looks like!
The book is delivered in a special case of dense leatherette, which protects the body from scratches and abrasions and the screen from damage. On the side of the cover are convenient paging buttons, and when you close the book, it puts the reader into sleep mode.
The display of the book is made using the "electronic paper" technology. Reading from such a screen is as comfortable as reading from a regular paper page. The touch screen with a multi-touch function provides convenient control when reading: paging with a short press, page shift, two-finger zoom, making notes in the text, and using additional functions.
The display diagonal is 6 inches, making the device as compact as possible in a "pocket" size. The total weight of the book with a cover is 253g, and without a cover – 160g. Even when holding the book for a long time, your hand does not get tired.
MOON Light 2 technology allows you to use the device in dark or poor lighting conditions without harming your eyesight. When using this function, a soft glow of the screen is created due to the absence of flicker. It does not irritate the eyes even when reading for a long time.
The model is based on a 4-core processor with a clock speed of 1.2 GHz and has 512 MB of RAM and 8 GB of internal memory. In addition, the device is equipped with a microSD slot that allows you to use memory cards up to 32 GB. The 3000 mAh battery ensures long battery life.
Thanks to the built-in Bluetooth 4.1 standard, you can connect an external keyboard or wireless headphones to listen to audiobooks. The reader is equipped with a Wi-Fi module, which allows not only accessing the Internet, but also transferring files from other devices and working with various online services.
Onyx Boox allows you to read documents in different languages of the world. Built-in dictionaries can translate words directly while reading. In addition, if you are connected to the Internet, you can use an online translator to translate a piece of text by selecting it in the document.