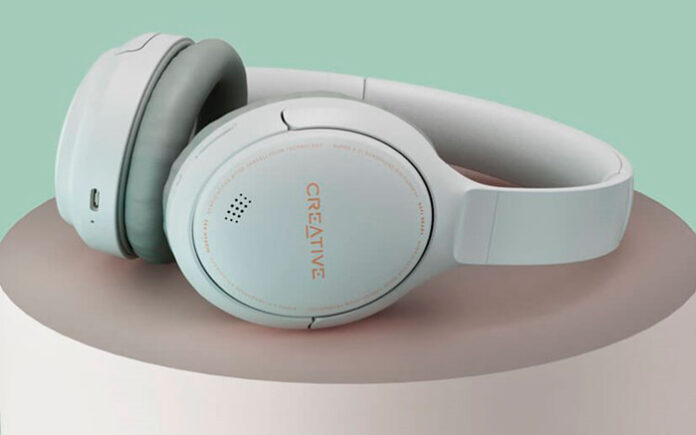 Creative Technology has released the Creative Zen Hybrid, its latest wireless headphones that can last much longer than usual. Featuring Hybrid Active Noise Canceling (ANC) technology, 40mm neodymium drivers, and up to 37 hours of battery life combined with a minimalist yet elegant design, the Creative Zen Hybrid has all the benefits of a versatile everyday headphone.
Rich functionality
Creative Zen Hybrid is designed to help users feel secluded through music wherever they are – they can focus much better with Hybrid ANC technology, cutting out unwanted distractions from the outside. This technology is "hybrid" by introducing feed-forward and feedback microphones on each earpiece. As a result, up to 95% of ambient noise is filtered out, allowing users to fully immerse themselves in their favorite tunes.
On the other hand, Ambient Mode allows users to be aware of what is happening without taking off their headphones. For example, when listening to announcements at the station, ordering in a cafe, or simply when ensuring the safety of users on busy streets. On top of everything else, there is a noise-canceling microphone, which keeps calls clear for the other party.
In addition to the noise-canceling feature, these headphones feature powerful yet lightweight 40mm neodymium drivers. Skillfully tuned by Creative's in-house engineers for a warm sonic experience with precise bass and clear highs, the Zen Hybrid headphones are balanced to fit a wide range of genres, helping to prevent headphone fatigue.
With an impressive battery life of up to 37 hours, users can easily listen to their favorite playlists even in the repeat mode. When needed, the Zen Hybrid can provide 5 hours of playback with just 5 minutes of ultra-fast charging.
The Creative Zen Hybrid features a sleek, lightweight design with a slim profile and comfortable, tactile control buttons conveniently located on the right ear cup. They also feature a foldable design and can be conveniently stored in the carry bag when not in use.
SXFI READY
The Creative Zen Hybrid is specifically tuned to support the exciting and expanding Super X-Fi ecosystem, where Super X-Fi Headphone Holography will be implemented on a variety of gadgets such as TVs, PCs and mobile devices. Users of SXFI READY headphones such as the Zen Hybrid will be able to enjoy this award-winning technology on such devices.
Key features of Creative Zen Hybrid
Hybrid ANC (forward-and-feedback microphones on each earpiece)
Environment monitor mode
Battery life – up to 37 hours (ANC off), up to 27 hours (ANC on)
Up to 5 hours of playback with just 5 minutes of charging
40mm neodymium drivers
Foldable design with a carry bag included.
Are you ready for SXFI READY?