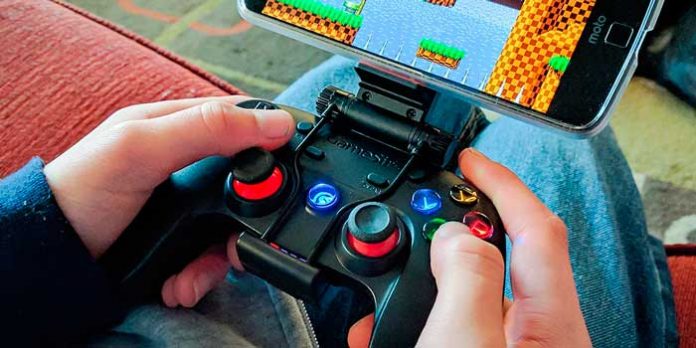 Buttons on the display or on the case of a smartphone are not always convenient either for gaming or in everyday life. They are small and difficult to tap. In addition, they cover part of the picture, interfering with the whole process. External gamepads do not have such minuses. But they have to be carried everywhere, and there is a need to find space for them in a bag or a pocket. MUJA hybrid controller can be the best compromise.
A thin panel that allows you to control game characters can be attached to the back of your smartphone with miniature suction cups. The touch surface of the novelty was divided into 4 large zones: R2, R1, L2, L1. If you take the smartphone in your hand, they will be just under the middle and index fingers.
Touch buttons can be assigned in addition to screen buttons for any game action. Thus, you can use six rather than two fingers to play the game. This will allow you to simultaneously jump, shoot, and move. The panel works due to brand software and supports more than 100 games, including Fortnite and PUBG.
MUJA operates on gadgets with Android OS and iOS and a display diagonal of 4.7 inches. It connects with the gadget via Bluetooth 4.2. The internal battery supplies the controller with energy for up to 50 hours. The tone of its backlight varies depending on the level of charge.
The new item has another convenient option. The material and firm mounting on the suction cups allow the invention to remove heat from the smartphone, as it is heating up during the game. MUJA can already be ordered on Indiegogo for $49.