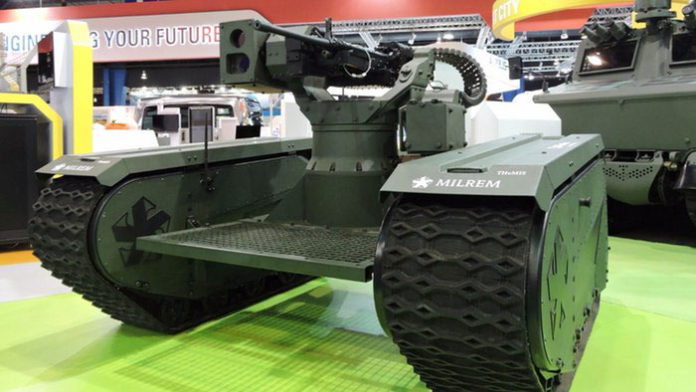 Estonian experts have created a fighting robot, which has no analogues in the world. Its indisputable advantages include a control system, a modular design and a wide range of tasks that the robot can perform in battle (and other) conditions.
During the annual technology exhibition Airshow 2016 in Singapore, there worked a pavilion, which presented the latest achievements in the field of robotics. The Estonian Milrem defense company used this show to finally introduce its own variation of the robotic combat and patrol platform. According to experts, the new technology exceeds all the samples available today in terms of quality.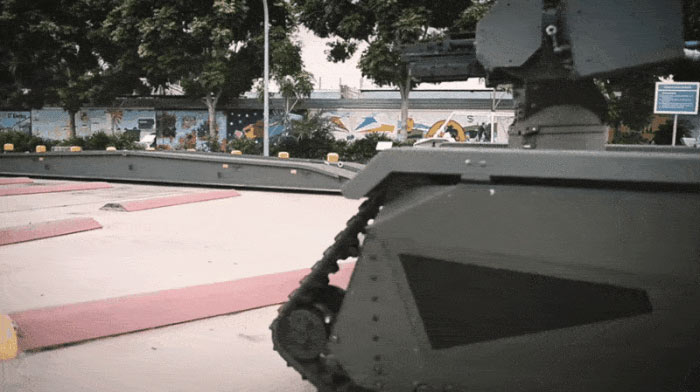 The manageable platform is called THeMIS ADDER. Its dimensions are 2.5x2x0.6 meters, but it can easily be upgraded to a more compact or larger version, depending on the purpose. The platform runs on two motors, each of which is responsible for one of the tracks. Moreover, the ability to power both tracks from one engine is provided in case one of them is damaged. An automatic "transition" is possible. THeMIS ADDER will be produced in two basic versions – on diesel or electric engines. The maximum platform speed is 50 km/h, and its capacity reaches 700 kg.
Another important advantage of the Estonian model is that THeMIS ADDER has a modular design. Unlike all other guard and fighting robotic platforms, this sample can be quickly assembled and disassembled, which facilitates its transportation. This feature also simplifies the maintenance procedure.

The spectrum of THeMIS ADDER tasks is incredibly broad. The platform can carry engineering equipment with remote control; it can carry missiles and heavy machine guns with remote guidance system. Finally, THeMIS ADDER can be used to transport goods, such as equipment, medicines, and ammunition in dangerous conditions.
THeMIS ADDER is managed like any other "robot" of this type – it is controlled remotely by an operator. The latter can do it with the help of a mobile remote control in real conditions or with the help of a station. The field trials, conducted by the Estonian military, revealed that THeMIS ADDER is a well-trafficable platform in comparison with other NATO samples.