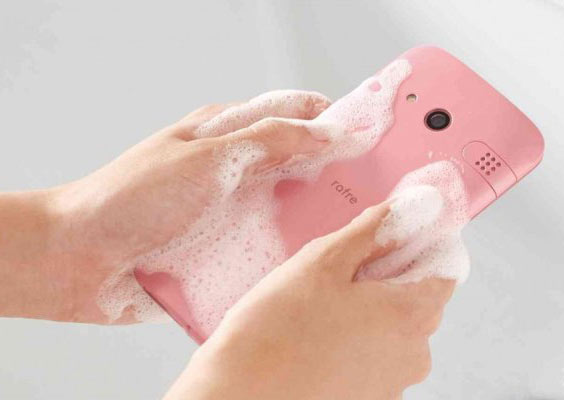 How to protect your smartphone from dirt appearing on it? You can wipe it with a special cloth or just buy a cell phone, which is not afraid of hot water therapy with soap.
Japanese Kyocera company has released a forerunner of the Digno Rafre model, announced in late 2015. New Kyocera Rafre (KYV40) does not possess any characteristics of the flagship product, but definitely surpasses its predecessor. The gadget for people suffering from filth-dread is protected by IP58 and MIL-STD-810G standards. It will not be damaged by warm water and lather, and its touch screen responds to touching with wet fingers. This means that the Japanese smartphone can be used during cooking, cleaning and relaxing in a bathtub/shower. Besides, Kyocera Rafre can perform various functions by reading the user's gestures – simple hand movements make it possible to scroll through the recipes, set timers and answer calls without touching the device.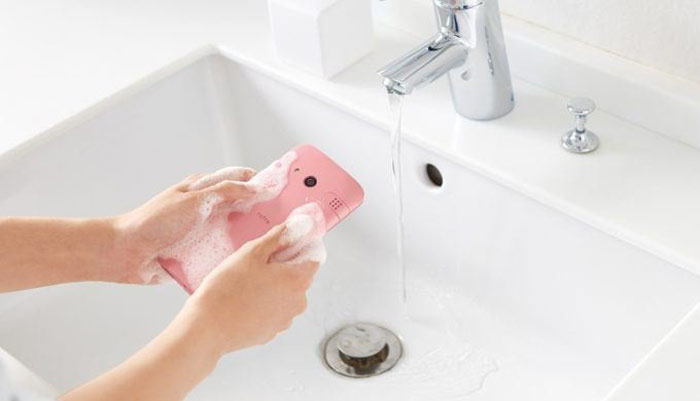 The smartphone is equipped with a 5-inch HD-display (1280×720 pixels) with tempered Dragontrail X Glass, a quad-core Qualcomm Snapdragon 430 processor, 2GB of RAM and 16 GB of internal memory, 13-megapixel main camera with an auto-focus, 5-megapixel front module, a slot for microSD cards, Wi-Fi and Bluetooth 4.2 modules, a 4G LTE modem and a 3000 mAh battery. Kyocera Rafre is not equipped with an earpiece, instead it uses the Kyocera Smart Sonic Receiver system, transmitting sounds through the bone using micro vibrations.
The smartphone dimensions are 142×71×10.4 mm, and its weight is 158 grams. In addition to water and soap, the novelty is not afraid of changes in temperature, dust and being dropped from height. Kyocera Rafre runs on the new Android 7.0 Nougat operating system and will go on sale in March this year. Its cost is not reported yet.