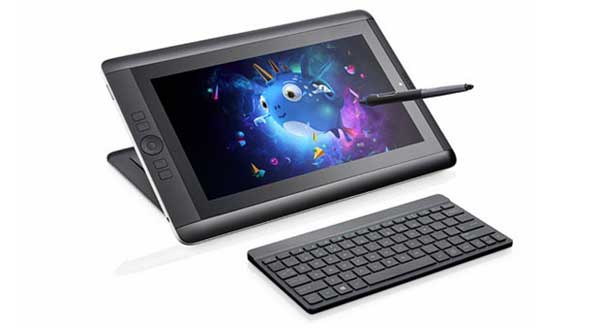 While they dash out new smartphones with a bewildering rapidity, making us wonder how many people change their handsets monthly, it's a bit different with sophisticated digital tablets for designer work. Yet, artists don't have to bother, they have a range to choose from, and the latest arrival on the market is also definitely worth considering.
The newest release comes from Wacom who have added to their Cintiq Companion range impressively. With this year's Cintiq Companion you will be able to bring out the artist in you in any given time and surroundings, whether you intend to be effortlessly entertaining or deadly professional. It runs on Windows 8 and proffers each and any kind of creative software you can think of.
The exciting alternative is the Cintiq Companion Hybrid which, when connected to a PC or Mac, performs as a standard Cintiq, but used on its own is a common Android-powered mobile tablet.
Whichever one you go for, you are bound to get Cintiq's eminent service in any place you log in, whether it is at your workplace or on the move about the town. The Cintiq Companion promises the largest scope imaginable for your creativity since it contains art & design tools allowing for accomplishing any task at hand. The up-to-date tablet works on Windows 8 installed on a 3rd generation Intel Core processor with Intel HD Graphics 4000. Available are two models, both with 8GB RAM but with different SSD storage capacity – a 256GB SSD for the first one, and double this volume for the second one, measuring 512GB SSD.
Coming to the Cintiq Companion Hybrid, it is proclaimed to be a digital sketchpad specially designed for working on the road, for professional illustrators not to be hampered in their work when travelling. The Cintiq Companion Hybrid can function as a sophisticated Cintiq slave to a PC or Mac, or, when you wish, you have it as a comprehensive Android tablet equipped with the Nvidia Tegra 4 processor and Android Jelly Bean OS. Needless to say, it has the necessary artist's software crowned with the new Wacom Creative Canvas. The Hybrid also comes in two models, 16GB and 32GB.
The Cintiq Companion Hybrid will be priced at $1,499 upwards, and the Cintiq Companion will set you back $1,999 or more.