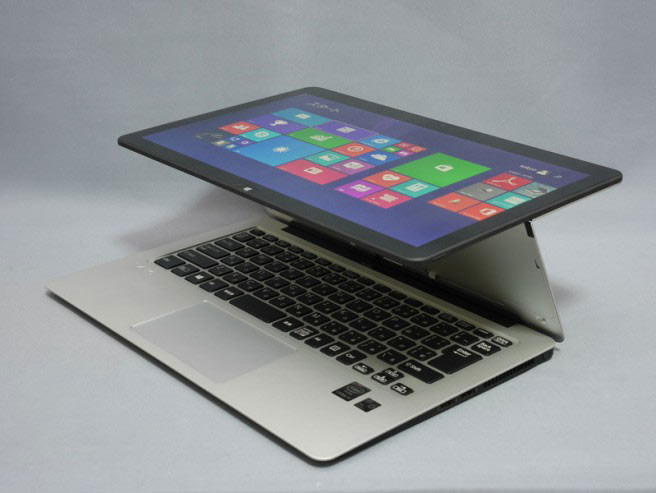 Japanese VAIO Corporation has introduced its first laptop, the design of which was developed after the brand had been sold to the Japan Industrial Partners (JIP) investment fund in the summer of 2014. The VAIO Z model is the flagship laptop. Ultrabook transformer will cost $1.600 in Japan. The device can operate as a laptop or a pseudo tablet PC.
VAIO Z will be available in two versions. The first one has a 13.3-inch screen with the resolution of 2560×1440 pixels, Intel i7 or i5 processor with a choice of 8 GB or 16 GB of memory respectively, a solid drive, which allows to boot the computer from sleep mode in 0.3 seconds. The battery capacity is sufficient for 15.5 hours of autonomous laptop performance. It is running on a 64-bit version of Windows 8.1 Pro. The device weighs 1.34 kg, and the thickness of its body is 16.8 mm.
The company has also presented VAIO Z Canvas with a 12.3-inch screen having the resolution of 2560×1704 pixels. The device is equipped with the Intel i7 processor, 256 GB SSD drive, and the RAM size up to 16 GB. Its distinguishing feature is the keyboard on the magnetic lock: this makes the computer similar to Microsoft Surface. The information about the price of the device is not available at the moment; it is assumed that the product will cost $1.800. According to other data, VAIO Z Canvas is cheaper than VAIO Z.
Pre-ordering of the VAIO Z model can be arranged even now, and the launch of VAIO Z Canvas is scheduled for May 2015.