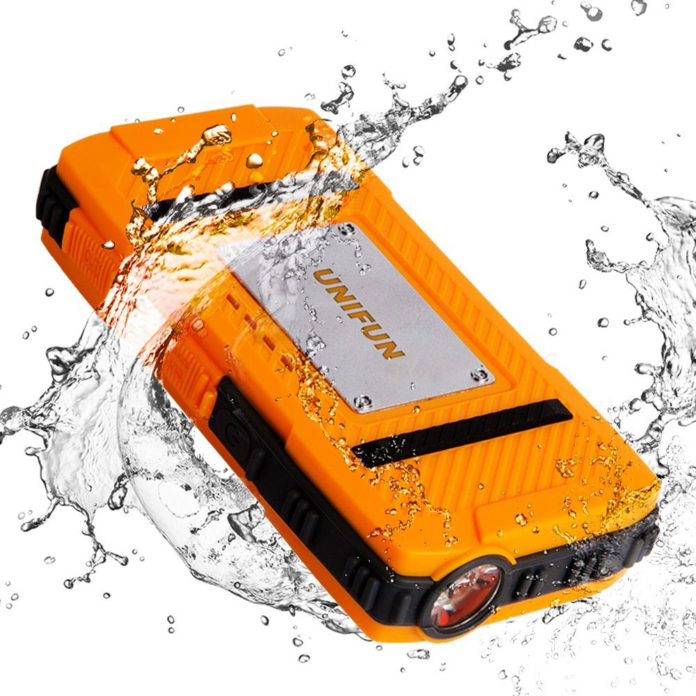 Every owner of a smartphone is familiar with the situation when the battery runs low at the most inappropriate moment. A pocket power bank can solve this problem. It is nice to wear, comfortable to use, and it can even help in a troublesome situation. What else is needed for a user's happiness?
Such a brand new power bank appeared the market not long ago. The device is called Unifun Waterproof Power Bank.
It is a "classic" power bank with increased endurance; it can operate in harsh conditions. The strength of the device is rated IP66. This means that Unifun is completely waterproof, resistant to dust, dirt, light and minor mechanical damage. In addition, its cover has a special relief preventing the battery from slipping and providing extra grip with surfaces. It also makes it much more comfortable for a hand's grip.
The power bank's capacity is impressive: 10 400 mAh. It is more than enough to charge most mobile devices, multiple devices or charging one device several times! The bank is compatible with most of them. There are both USB and MicroUSB inputs, with charging of 5V/1.0 A. One of the ports offers the option of ultra-fast 5V/2.1 A charging. The ports are equipped with LED indicators. In addition, Unifun is equipped with powerful LED flashlight. The entire device weighs 300 grams, with the dimensions of 2.84х7.54х1.47 cm.