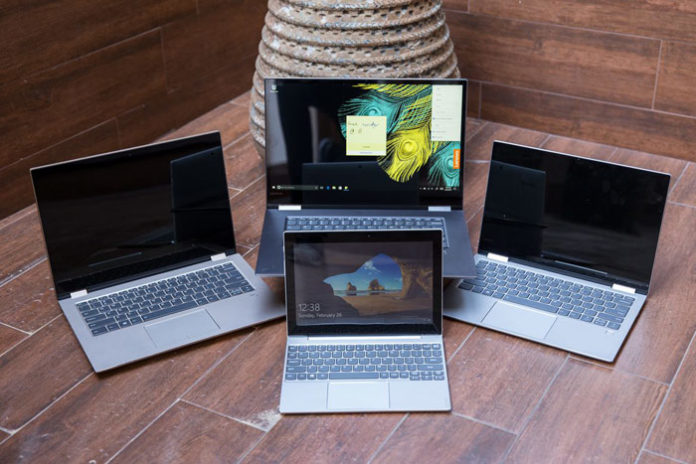 Lenovo has expanded its range of convertible laptops by releasing the new models, Yoga 520 and Yoga 720. They are equipped with a seventh-generation Intel Core processor, Windows 10, Windows Hello fingerprint reader, whereby you do not need to enter a password, and a stylus support to write directly on the touchscreen. However, the stylus itself is not included in the set.
The convertible Lenovo Yoga 520 laptop will be released in two versions — with 15- and 14-inch displays. At MWC 2017, the manufacturer demonstrated only the compact look of the device, revealing its features: Full HD multi-touch IPS-panel, Intel Core seventh generation chipset up to Core i7, NVIDIA GeForce 940MX graphics, up to 16 GB of RAM, SSD up to 512 GB or hard disk up to 1 TB, Wi-Fi modules – 802.11 ac and Bluetooth 4.1, an HD-camera, card reader, HDMI port, a battery lasting up to 10 hours of work, and the support for Dolby Home Theatre and Harman Audio sound system.
Lenovo Yoga 720 will be available with a 13.3 or 15.6-inch touch IPS-panel. The display resolution could be Full HD (1980х1080 pixels) or 4K (3840×2160 pixels). There is the Intel Core i7 processor inside, up to 16 GB of RAM, HDD up to 1 TB or SSD up to 512 GB. The 13.3-inch variant offers integrated Intel HD Graphics 620, and the 15.6-inch version has an optional NVIDIA GTX 1050 video card. However, the latter does not support the minimum requirements for working with virtual reality. As for the sound, the model is equipped with JBL and the support for Dolby Audio Premium. There are also Wi-Fi 802.11 ac and Bluetooth 4.1 wireless modules, as well as an HD-camera. Claimed battery life — 8 hours for the 13-inch model and 9 hours for the 15-inch version. The laptops with a 4K screen will last one hour less.
All the models displayed at the exhibition, including Yoga 52, include at least one USB Type-C port and full-size USB 3.0. The models preserve the function typical of all the Yoga series hybrid laptops— the display is flipped 360°.
Lenovo Yoga 520 will appear on the market in May 2017 at a cost of $800. The Lenovo Yoga 720 sales will start in April at a price of $860 for the 13.3 inch version and $1100 for the 15-inch version.