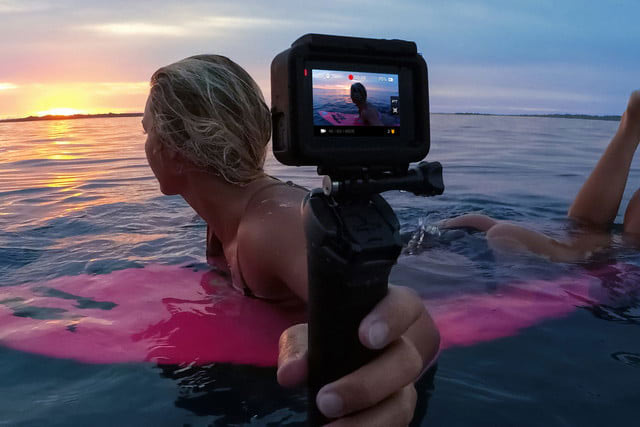 The GoPro company has released its most powerful and user-friendly camera – Hero6 Black. The new GP1 processor supports video recording in 4K and FullHD formats at 60 frames/second and 240 frames/second respectively. The chipset made it possible to improve the stabilization so much that the captured video is obtained with smooth transitions of frames. The company also introduced Fusion, the first waterproof camera with a spherical video recording and the resolution of 5.2K.
GoPro Hero6 Black is twice as productive as Hero5. The color reproduction and the speed of dynamic setting of the AE are improved in the camera, which is especially important in the conditions of shooting under weak and often changing light. For more convenience, digital zoom has been added. The speed of uploading Quik Stories videos in combination with the QuikStories function has been accelerated three times, which allows you to create video stories directly from your smartphone. The device module has a resolution of 12 megapixels, HDR function, serial shooting of 30 frames/second and the ability to save pictures in RAW format.
GoPro Hero6 Black understands voice commands in 10 languages, including Russian. It has a touch screen, GPS, an accelerometer, a gyroscope, Wi-Fi and Bluetooth and is waterproof at the depth of 10 meters. The novelty is compatible with all GoPro mounts and accessories.
The 360-degree GoPro Fusion camera has a durable, water and dust-proof body, so you can dive with it as deep as 5 meters. The gadget creates spherical images with a resolution of 18 megapixels and shoots videos in the 5.2K-resolution at the speed of 30 frames per second or in the 3K format at the speed of 60 frames per second. The release of the Fusion camera on the market is expected in the first quarter of 2018.